Your First Visit to Our Whittier Practice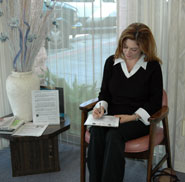 On your first visit to Woods Chiropractic you will be warmly greeted and helped with our relatively simple paperwork. You won't have to wait much, if at all. We run almost always on time because we set aside time especially for our new patients. Our music, scents and lighting are all designed to put you at ease and be a complement to your well-being.
Now you can conveniently fill out and submit your New Patient Paperwork from the comfort of your home by clicking here.
Next, you will meet the energetic Dr. Woods! He will begin by reviewing your paperwork and asking you pointed questions to begin to uncover the real cause of your condition and get to know who you are as a person as well. Be ready to answer questions about your past history and how it led up to where you are now. If you have health records you may bring them to help Dr. Woods.
After this consultation, Dr. Woods will show you an introductory video called "
Getting Started
." Let us know if you have already seen it
here on the website
. Dr. Woods will also ask you some questions about it.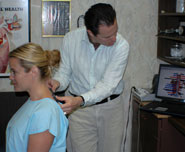 Next, Dr. Woods will perform two non-invasive spinal scans with our state-of-the-art Insight Millennium. After that, a pertinent physical examination will be performed to isolate better the cause of your condition.
If Dr. Woods determines that X-rays are necessary then these would be done at this time too. In addition, Dr. Woods may elect to apply some form of physical therapy at this time and he would explain it and help get you started on that.
Take home recommendations will be provided and explained and you will come up to the front desk to make an appointment for your follow up visit as soon as possible.
Now Dr. Woods needs to review your case in detail and make some determinations which he will be eager to explain to you on the next visit when your actual care will begin.
Plan on spending about 45 minutes to 1 hour for this first visit. Contact Woods Chiropractic today to make an appointment.
---
Your First Visit | Woods Chiropractic | (562) 947-2864